Earlier this year, we wrote about The Future of SaaS and highlighted three major cloud predictions for enterprise SaaS sales over the next five years. In particular, we noted that:
"Enterprises' massive consumption of cloud resources will continue as mission-critical. Applications will near-universally convert from on-premise, private data centers to the public cloud. This migration is a certainty, and not necessarily notable in terms of explosive SaaS use. What is notable is the accompanying surge of migration tools and supporting application use required to streamline the path to the cloud."
Cloud and proud
Just a few quarters have passed since then, and many of our enterprise SaaS predictions have come true. In fact, the flood of workloads and data from core enterprise apps like Microsoft, SAP, IBM and Oracle being moved to public clouds has even outstripped expectations. SaaS sales are skyrocketing.
Forrester reports that 60% of North American enterprises now rely on public cloud apps – a 500% increase from just five years ago. With SaaS sales surging, Gartner suggests that by 2020 a corporate 'no-cloud' policy will be as unusual as a 'no-internet' policy. Another report by Citrix notes how 'cloud' has become such a part and parcel of everyday business processes that the word itself may soon be no longer required.
We are entering a world where there are no longer cloud-run businesses – just businesses.
For IT and finance leaders tuned into the cloud's impact on margins and operational effectiveness, the most pressing aspect of this migration is not transitioning the workloads and organization of day-to-day maintenance plans. They have long understood that this can reduce the capital costs of maintaining a data center and create much-needed flexibility around on-demand (even hourly) consumption models. These facts are not up for debate. The real issue surrounds the unknown or overlooked costs created by enterprise migration and a cloud-first corporate culture.
North America leads the way
Mordor Intelligence notes how North America is not only among the leading innovators and pioneers of cloud migration adoption, it is also home to the world's largest market. Their findings also reveal that the highest concentration of cloud providers and migration vendors can be found on our shores. Consider the influence of these industry juggernauts, all laser-focused on ramping their cloud service and SaaS sales: IBM, Microsoft, SAS, Amazon Web Services, Cisco Systems, Cognizant and Google.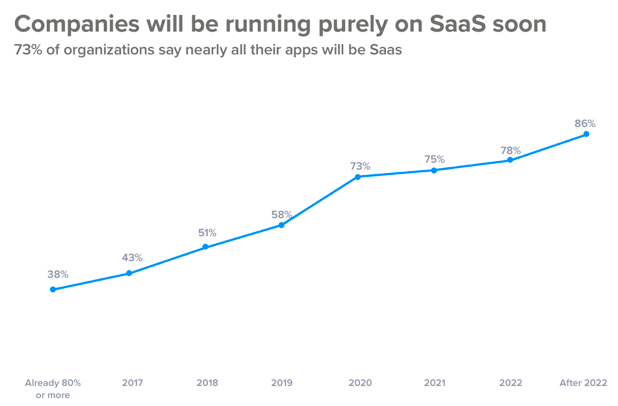 Not only do these vendors offer cloud applications, but they are also building billion-dollar businesses around the complex tasks of "[...] modernizing and migrating applications" through new automation tools and services to "[...] reduce the time of modernizing and moving an organization's data, infrastructure, applications, and workloads."
IBM, for example, is doubling-dipping on cloud interest with its IBM Cloud Migration Factory. In essence, it is a cloud-based support kit to streamline enterprise cloud transitions and transformations. This product is just one of many cloud products that have emerged to feed off the already-underway cloud migration.
Industry clouds: the future of enterprise SaaS sales
Forrester also foresees the resurgence of "industry clouds" with extensible SaaS applications at their core. Therefore, companies that have already migrated enterprise functions and data to a vendor will be subject to cross-selling. This will include the expansion offerings, new applications and other associated services that are being built around the core service.
The industry is seeing this most clearly with Salesforce and Workday, both of whom are targeting specific industries and opening up their platforms; they have been busy adding new development tooling, integrations and deployment options to further penetrate companies' operating environments.
This research supports our concern that the cloud workload transition itself will not be the cost/compliance driver. Instead, it will be the associated apps, services and tools – plus the cloud-acceptance-culture that encourages increased rates of subscription - that will take precedence.
En masse enterprise SaaS
In our recently released benchmark SaaS report titled, The State of Business SaaS Spend 2019, we report on SaaS use and spend realities for companies across several top industries. A few highlights, undoubtedly driven by the cloud-culture discussed above, include:
The annual SaaS spend per employee totals to more than $13,000.
The typical employee uses 44 apps to do their job.
The typical 800-person US company uses 141 SaaS apps across the organization.
The march to the cloud shows no signs of letting up or slowing down. Most processes and functions will be performed with a cloud-supported app, including both back-office and customer facing roles. Even activities outside the remit of SaaS-eager-employees will be managed by software supported AI or automating SaaS tools.
The challenge on this journey? Efficient cost, compliance and optimization practices to identify and manage the mounting SaaS sales we have witnessed in recent months. This looks set to rise dramatically in the months and years ahead.
Treat yourself to Cleanshelf
Although no easy task, we have the know-how to help CIOs get back in control of their SaaS spend. Our technology directly integrates with financial systems and cloud subscription accounts to help track enterprise SaaS spend and maximize ROI. We work with several top companies to optimize their cost, compliance and usage, eliminating the shelfware from their cloud stack.
The irony of Cleanshelf's SaaS management solution being another SaaS is not lost on us. However it makes sense when you consider it the SaaS investment to justify the others.
Give us a call or email today to get a better handle on your SaaS exposure. There is everything to gain and nothing to lose apart from unused licenses, nagging security concerns, and pointless vendor overpayments.
Ready to start controlling your enterprise SaaS?
About Cleanshelf
Cleanshelf is the leading enterprise SaaS management platform focused on tracking, controlling, and benchmarking SaaS applications. Their SOC 2-compliant and AI-powered technology helps companies save up to 30% on their SaaS spending by automatically identifying unmanaged contracts, duplicate licenses, and wasted cloud software subscriptions. Based in San Francisco, Cleanshelf provides an enterprise-grade solution to over a hundred clients, including Hilton, Looker, and CoStar Group.